View cart
"Mini Bands (Medium 10-Pack)" has been added to your cart.
High Bar
$95.00
The NouFlex High Bar is an ultra-portable resistance band-based total-body trainer. It leverages an anchor that securely attaches to your door frame and adjustable resistance bands to provide a customizable workout experience that's suitable for all fitness levels. The NouFlex High Bar is our smallest footprint product, so it can be easily tucked away when not in use.
Includes:
20, 25, and 30 lb resistance bands
Handle attachment
Weighted bar
Door anchor
2 beginner video tutorials
14 day free trial to NouFlex Virtual
Free T-Shirt (Black, Gray, or White)


Purchase a NouFlex High Bar and Get a FREE T-Shirt!
Related products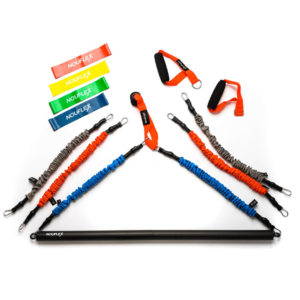 NouFlex High Bar Bundle
The NouFlex High Bar Bundle is the perfect full-body workout system that will tone and strengthen your core and upper body. Use the NouFlex High Bar for practicing your golf swings, tennis swings and more! The Mini Bands are perfect for strengthening and stabilizing everything around your hips—including crab walks, hip marches, and around your feet to add resistance to planks and mountain climbers.
Included:
20, 25, and 30 lb resistance bands
Handle attachment
Weighted bar
Door anchor
Private personal training fitness consultation
14 day free trial to NouFlex Virtual
Set of 4 NouFlex exercise bands (lite, medium, heavy, x-heavy)
Free shipping
$

105.00
Add to cart