High Bar
$95.00
The NouFlex High Bar is an ultra-portable resistance band-based total-body trainer. It leverages an anchor that securely attaches to your door frame and adjustable resistance bands to provide a customizable workout experience that's suitable for all fitness levels. The NouFlex High Bar is our smallest footprint product, so it can be easily tucked away when not in use.
Includes:
20, 25, and 30 lb resistance bands
Handle attachment
Weighted bar
Door anchor
2 beginner video tutorials
14 day free trial to NouFlex Virtual
Free T-Shirt (Black, Gray, or White)


Purchase a NouFlex High Bar and Get a FREE T-Shirt!
Related products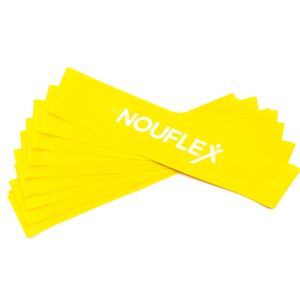 Mini Band (Lite 10-Pack)
MINI-BANDS (Light 10-PACK): Nouflex Resistance Bands, Resistance Exercise Bands for Home Fitness, Stretching, Strength Training, Physical Therapy, Natural Latex Workout Bands, Pilates Flexbands, 12" x 2" 4 Nouflex resistance bands Include: Made from 100% natural latex.
$

15.95
Add to cart