NouFlex Certification Course
$249.00
NouFlex Certification Course
NouFlex offers more than just virtual workouts and workout equipment. It offers a chance to become a certified NouFlex trainer and have job opportunities available to them. Our program provides you with a dedicated study guide with helpful videos and training exercises. If you love fitness and having the flexibility of remote work, then the NouFlex Certification Course is for you. Earn 1.6 NASM/ACE or 18 NETA CEU's which will give you an exclusive leg-up from other fitness gyms and studios.
Included:
NouFlex Study Guide
Complimentary Virtual Workshop (required)
Exam
Prerequisites: 
B.A. in Exercise Science, Kinesiology or Physiology or NASM, ACE, ACSM, AFAA, YOGA, PILATES or any nationally accredited certification
Related products
Sale!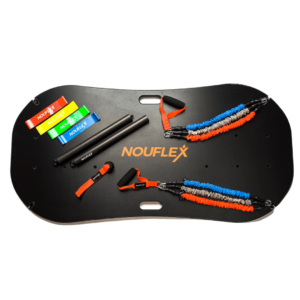 NouFlex Pro-Workout Bundle
Build yourself up so nothing can break you down. The NouFlex Pro-Workout Bundle features our NouFlex Training System with a sturdy, yet lightweight fit-board, and our NouFlex Mini Bands to challenge yourself every day. Push past bodyweight and strengthen your core, to set up a strong foundation for all your workouts, and get yourself to that next level.
Includes:
NouFlex fit-board
Pairs of 20, 25, and 30 lb resistance bands with handles
2 Private personal training fitness consultations
4 resistance bands that come in varying resistance levels: light, medium, heavy and x-heavy
14 day free trial to NouFlex Virtual
Free Shipping
$

510.00
Add to cart