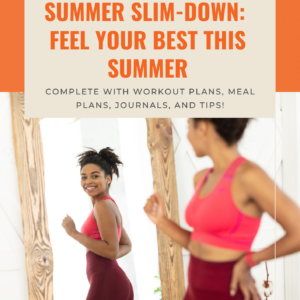 Summer Slim-Down Complete Guide
Are you ready to kick-start your journey towards a healthier, fitter, and more confident you this summer?
Look no further than the Summer Slim-Down Complete Guide, your ultimate companion for achieving your weight loss goals and feeling your best during the sunny season. The Summer Slim-Down Complete Guide is a comprehensive fitness and meal plan designed specifically for summer weight loss. It provides you with all the tools and knowledge you need to transform your body and adopt a sustainable healthy lifestyle. With this guide, you can confidently take charge of your fitness journey and make this summer the one where you shine.
What's Included:
4 weeks of complete workout routines including linked fitness videos
4 weeks of suggested meal plans including nutrition tips and resources
Expert fitness and nutrition guidance and tips
Weekly and monthly reflection planner to keep track of your progress
Make this summer your time to shine with the Summer Slim-Down Complete Guide. Empower yourself with a customized fitness plan, targeted meal ideas, nutritional guidance, lifestyle tips, and a progress tracker to help you achieve your weight loss goals and embrace a healthier lifestyle. Get ready to feel confident, energized, and ready to embrace all the joys of the summer season! Note: It's always recommended to consult with a healthcare professional before starting any new fitness or meal plan, especially if you have any pre-existing medical conditions or dietary restrictions.
$

39.95
Add to cart