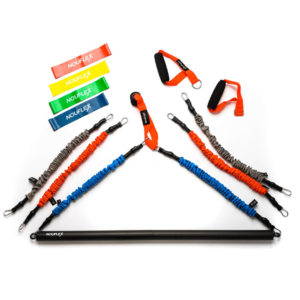 NouFlex High Bar Bundle
The NouFlex High Bar Bundle is the perfect full-body workout system that will tone and strengthen your core and upper body. Use the NouFlex High Bar for practicing your golf swings, tennis swings and more! The Mini Bands are perfect for strengthening and stabilizing everything around your hips—including crab walks, hip marches, and around your feet to add resistance to planks and mountain climbers.
Included:
20, 25, and 30 lb resistance bands
Handle attachment
Weighted bar
Door anchor
Private personal training fitness consultation
14 day free trial to NouFlex Virtual
Set of 4 NouFlex exercise bands (lite, medium, heavy, x-heavy)
Free shipping
$

105.00
Add to cart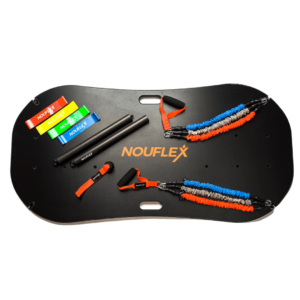 NouFlex Pro-Workout Bundle
Build yourself up so nothing can break you down. The NouFlex Pro-Workout Bundle features our NouFlex Training System with a sturdy, yet lightweight fit-board, and our NouFlex Mini Bands to challenge yourself every day. Push past bodyweight and strengthen your core, to set up a strong foundation for all your workouts, and get yourself to that next level.
Includes:
NouFlex fit-board
Pairs of 20, 25, and 30 lb resistance bands with handles
2 Private personal training fitness consultations
4 resistance bands that come in varying resistance levels: light, medium, heavy and x-heavy
14 day free trial to NouFlex Virtual
Free Shipping
$

510.00
Add to cart