Bride Bootcamp Program
$49.99
Ready to say "I do" to a healthier, happier you? Introducing Bride Bootcamp – the ultimate fitness journey to help you strut down that aisle with confidence and grace! 🏋️‍♀️👑
Calling all brides-to-be who are ready to sculpt, tone, and radiate positivity! Join us on this exciting adventure as we sweat, inspire, and transform together. Whether you're looking to rock that dream dress or simply want to feel your absolute best on your big day, Bride Bootcamp has got your back (and biceps)!
🏃‍♀️ What you can expect:
Expert guidance from certified trainers who understand your bridal goals.
8-days of workouts geared to strengthen, tone, and slim
A supportive community of fellow brides cheering you on every step of the way.
Nutritional tips and meal plans to fuel your body and boost your glow.
Let's trade those pre-wedding jitters for endorphins and empowerment! Tap into your bridal brilliance and sign up for Bride Bootcamp today. Let's make those fitness goals as unforgettable as your special day.
Real Bride Reviews:
Related products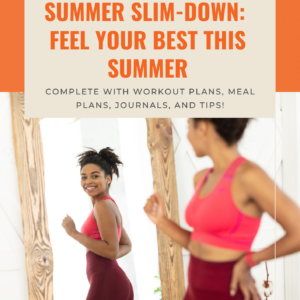 Summer Slim-Down Complete Guide
Are you ready to kick-start your journey towards a healthier, fitter, and more confident you this summer?
Look no further than the Summer Slim-Down Complete Guide, your ultimate companion for achieving your weight loss goals and feeling your best during the sunny season. The Summer Slim-Down Complete Guide is a comprehensive fitness and meal plan designed specifically for summer weight loss. It provides you with all the tools and knowledge you need to transform your body and adopt a sustainable healthy lifestyle. With this guide, you can confidently take charge of your fitness journey and make this summer the one where you shine.
What's Included:
4 weeks of complete workout routines including linked fitness videos
4 weeks of suggested meal plans including nutrition tips and resources
Expert fitness and nutrition guidance and tips
Weekly and monthly reflection planner to keep track of your progress
Make this summer your time to shine with the Summer Slim-Down Complete Guide. Empower yourself with a customized fitness plan, targeted meal ideas, nutritional guidance, lifestyle tips, and a progress tracker to help you achieve your weight loss goals and embrace a healthier lifestyle. Get ready to feel confident, energized, and ready to embrace all the joys of the summer season! Note: It's always recommended to consult with a healthcare professional before starting any new fitness or meal plan, especially if you have any pre-existing medical conditions or dietary restrictions.
$

39.95
Add to cart
Sale!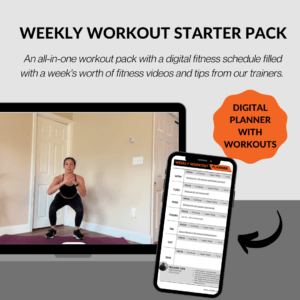 Weekly Workout Starter Pack
We understand it can be difficult to know where to start when you're beginning a new workout routine. That's why we created the Weekly Workout Starter Pack – a week-long plan filled with workouts and tips from our trainers.
The Weekly Workout Starter Pack can help you get started with a variety of exercises and tips that are tailored to your goals and needs. Whether you're a beginner or an experienced athlete, the Starter Pack offers easy-to-follow workouts and helpful tips you can use to achieve your fitness goals. Plus, with weekly updates and new workouts, you can stay on top of your routine and make sure you're getting the most out of your workouts.
We hope you find the Weekly Workout Starter Pack to be a helpful tool for starting your workout routine. Thanks for being part of our community and for being determined to reach your goals.
Included:
Exclusive weekly workout planner with workouts chosen by our NouFlex fitness CEO, Anel Bellevue
A 7 day fitness schedule including workouts, rest days, and tips
4 digital workouts with helpful tips along the way
Health and fitness tips to motivate you to reach your fitness goals.
$

15.99
Add to cart